In global news, the market is keeping a wary eye on the Ukraine situation. In a sign that talks are not going as well as hoped, the US and the UK are withdrawing some embassy staff from Kyiv. The market is particularly focused on the potential impact on energy prices, should Russia limit the gas and oil exports on which Europe largely depends.
It was another tumultuous week in Westminster, as prime minister Boris Johnson continued to fight for his job. He seems, for the time being, to have been successful, weathering a cross-party grilling during Wednesday's PMQs over lockdown parties. He was, however, quick to strike a more positive tone towards the end of the session, announcing that England will "return to Plan A and allow Plan B regulations to expire" on Thursday. This is a significant boost to business, and to hospitality in particular, as working-from-home guidance and the use of mandatory Covid passports will be scrapped.
There is little in the way of economic data coming out of the UK this week. All eyes are likely to be focused instead on the findings of senior civil servant Sue Gray's investigation into Downing Street's alleged rule-breaking throughout the pandemic. If, as Mr Johnson has promised, Ms Gray's report is released this week, markets will be assessing whether any of the contents are damaging enough to pose a genuine threat to his premiership. Sterling has so far tuned out the political noise, trading as high as 1.3686 against the US dollar last Monday. This figure, however, edged downwards for the remainder of the week, closing at 1.3554 on Friday following the release of disappointing retail sales data for December.
We also learned on Wednesday that UK inflation rose to 5.4% in December, a near 30-year high. This came as unwelcome news for British consumers whose living costs have also increased recently with surging energy prices. There is now mounting pressure on Bank of England policymakers to hike rates for the second meeting in succession. Markets are overwhelmingly pricing in such a move when the Monetary Policy Committee's next meets on 3rd February: they see an 90% chance of the base rate doubling to 0.5%. Most economists polled by Reuters last week also said they are in favour of a hike.
The UK is not alone in its inflationary struggles. Central banks across the world are battling to get a grip on growing price pressures. US President Joe Biden last week publicly declared his support for Federal Reserve chair Jerome Powell's plans to begin tightening monetary policy. Experts predict that The Fed will raise interest rates several times in 2022, supplementing previous measures to make borrowing more expensive – namely, slowing its purchases of Treasury bonds and mortgage-backed securities.
GBP/USD 1 year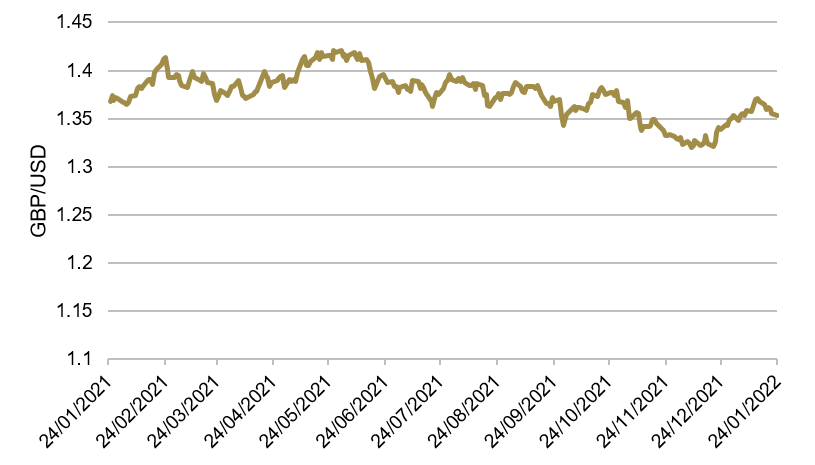 Flash purchasing managers' index (PMI) figures have been released for most major economies today (Monday). Notably, the eurozone figure came in at 52.4 down from 52.6. Also, the composite PMI for the UK came in at 53.4 versus previous 53.6.
On Wednesday, attention will turn to North American monetary policy, with both the Federal Reserve and Bank of Canada due to announce interest-rate decisions. Canada's decision is thought to be on a knife-edge; some believe that rising house prices and a strong recovery from Omicron may force the central bank into action. The Fed is expected to sit tight for now, but with inflation now at an eye-watering 7%, it seems unlikely this can continue for much longer. One other data point of note this week in the US will be fourth-quarter GDP growth on Thursday; this looks set to show a marked improvement on the previous quarter (5.4% versus 2.3%).
Currencies
| Pair | Last | 12-month high | 12-month low |
| --- | --- | --- | --- |
| GBP/EUR | 1.1948 | 1.2040 | 1.1230 |
| GBP/USD | 1.3536 | 1.4248 | 1.3163 |
| GBP/CHF | 1.2343 | 1.3074 | 1.2102 |
| EUR/USD | 1.1329 | 1.2266 | 1.1186 |
| GBP/AUD | 1.8921 | 1.9154 | 1.7687 |
| GBP/ZAR | 20.5502 | 21.7684 | 18.9546 |
| GBP/CAD | 1.7048 | 1.7887 | 1.6641 |
| GBP/SEK | 12.4491 | 12.5570 | 11.3050 |
| GBP/NOK | 12.0865 | 12.4205 | 11.3830 |
| GBP/INR | 101.0559 | 105.3777 | 98.9693 |
Economic data
Date
Release
Last
Exp

25/1/22

DE

Ifo

Business Climate (Jan)

94.7

94.6

26/1/22

CA BoC Interest Rate Decision

0.25%

0.5%

26/1/22

US Fed Interest Rate Decision (Upper)

0.25%

0.25%

27/1/22

DE GfK Consumer Confidence (Feb)

-6.8

-8

27/1/22

US GDP Growth Rate QQ (Q4)

2.3%

5.4%