Rate lift-off in the US looks ever more certain in light of last week's inflation data, which rose to a 40-year high. The Consumer Price Index (CPI) year-on-year measure increased to 7.9% in February. Federal Reserve chair Jerome Powell has already signalled his willingness to raise rates by 0.25% this week and the question, now, is how far they will continue to climb; markets are forecasting five more 0.25% hikes before the end of the year.
We have already seen rates lift off in the UK and expect a third consecutive hike when the Bank of England (BoE) meets on Thursday; this will bring the official base rate to 0.75%. Gross Domestic Product in the UK surprised to the upside, showing a 0.8% rise in growth in January following December's Omicron-induced fall. According to the BoE's own forecast, CPI inflation in the UK is expected to rise beyond 7% in the spring.
Even the European Central Bank sounded a hawkish tone on monetary policy when it met last week, suggesting it may need to end its quantitative-easing programme earlier than expected.
Hopes for a breakthrough in talks between Russia and Ukraine increased over the weekend; Ukrainian negotiator Mykhailo Podolyak stated that Russia was "beginning to talk constructively." Whether this will be enough to calm jittery markets remains to be seen.
Western governments continue to look for ways to isolate the Russian economy. Last week, the US signalled it would ban imports of Russian oil and gas and the UK said it would phase out imports by the end of 2022. The European Union, which is heavily reliant on Russian energy, has said it will phase out imports by 2027.
Russia is the world's top exporter of oil (crude and refined combined), accounting for roughly 7% of global supplies. The impact of moves to ban imports has seen Brent crude, the international benchmark oil price, surge by approximately 40% since the start of the year; it hit a high of $139 per barrel last Monday before settling at around $106 per barrel by the end of the week. Petrol prices on UK forecourts also hit a new high, rising above £1.60 per litre over the weekend.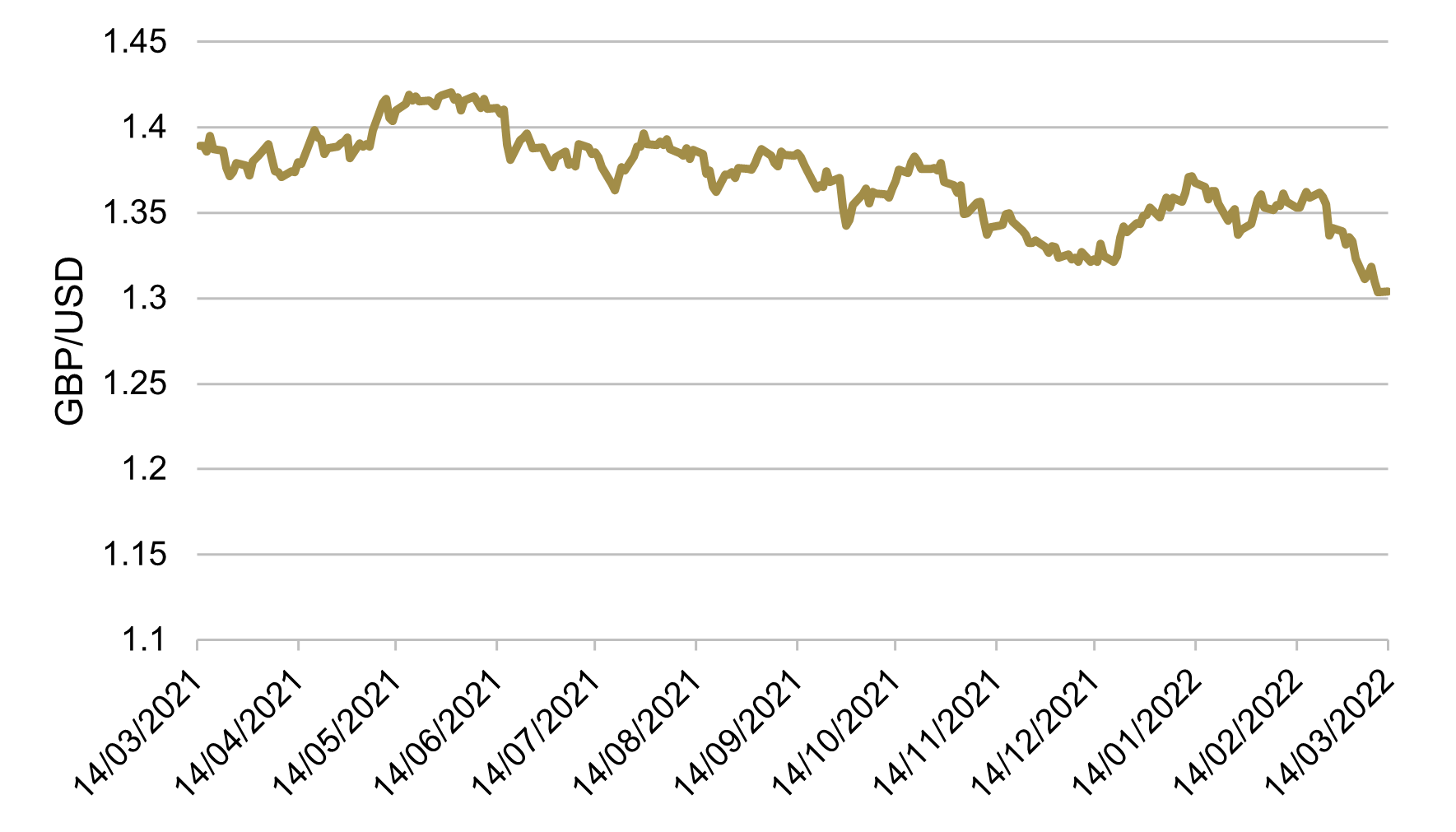 Central banks were already concerned about inflation before Russia's invasion of Ukraine. The effect of higher food and energy prices caused by the conflict will no doubt be another item under discussion at BoE and Federal Reserve meetings this week. Downside risks to global growth remain a headache for policymakers as the impact of sanctions begin to mount.
The UK labour market has stayed buoyant over recent months and that trend is forecast to continue. Tomorrow's employment report from the Office for National Statistics (ONS) is expected to show a fall in the unemployment rate to 4.0% in January (from 4.1% in December), with a further 40,000 jobs filled. According to the ONS, the number of job vacancies in the UK rose to a new record of 1,247,000 when reported in January, pointing to a labour market 'running hot'.
US data points of interest come in the form of retail sales (Wednesday), industrial production (Thursday) and housing data (Thursday and Friday – all of which should give clues as to the immediate strength of the world's biggest economy.
The US dollar remained strong last week, pushing sterling 1.43% lower to close at 1.3036. The euro was not as heavily sold as it has been, but still traded 0.38% lower on the week against the US dollar, closing at 1.0909. Sterling fell 1.39% versus the euro to close the week at 1.1943.
Currencies
| Pair | Last | 12-month high | 12-month low |
| --- | --- | --- | --- |
| GBP/EUR | 1.1926 | 1.2191 | 1.1469 |
| GBP/USD | 1.3041 | 1.4248 | 1.301 |
| GBP/CHF | 1.2207 | 1.3074 | 1.2113 |
| EUR/USD | 1.0935 | 1.2266 | 1.0806 |
| GBP/AUD | 1.8004 | 1.9222 | 1.7734 |
| GBP/ZAR | 19.6595 | 21.7684 | 18.9546 |
| GBP/CAD | 1.6658 | 1.7627 | 1.6569 |
| GBP/SEK | 12.6327 | 13.2423 | 11.5275 |
| GBP/NOK | 11.7364 | 12.4205 | 11.383 |
| GBP/INR | 99.8973 | 105.3777 | 99.2283 |

Economic data
Date
Release
Last
Exp

15/03/22

UK Average Earnings 3M/12M excluding bonus (Jan)

3.7%

3.7%

15/03/22

UK Unemployment Rate (Jan)

4.1%

4.0%

15/03/22

UK Employment Change 3M/3M (Jan)

-38k

40k

15/03/22

EZ ZEW Expectations (Mar)

54.3

8.0

15/03/22

EZ ZEW Current Situation (Mar)

-8.1

-23.0

16/03/22

US Retail Sales MM (Feb)

3.8%

0.3%

16/03/22

US FOMC Rate Decision

0.00-
0.25%
0.25%-
0.50%

17/03/22

UK BoE Rate Decision

0.50%

0.75%

17/03/22

US Housing Starts (Feb)

-4.1%

3.8%

17/03/22

US Industrial Production (Feb)

1.4%

0.5%

18/03/22

US Existing Home Sales (Feb)

6.7%

-4.6%