Inflation Pressures Force Central Banks to Act
Emmanuel Macron was re-elected President of France on Sunday, comfortably seeing off his far-right rival Marine Le Pen. Despite the victory, which shores up the status quo in Europe, the euro fell 0.20% overnight against the US dollar, as markets quickly turned their attention to economic conditions.
Sterling came under pressure last week in view of a gloomy retail-sales picture which saw a month-on-month fall of 1.4% (consensus -0.3%). This came after GfK's UK consumer confidence index slipped to -38, its lowest since the financial crisis of 2008. On Friday, the pound traded at a November 2020 low of 1.2820 against the US dollar and fell further this morning, trading as low as 1.2737.
The pound's weakness was compounded by an outperforming US dollar, as markets understood comments from Federal Reserve officials to mean aggressive rate hikes are in the pipeline. Fed chairman Jerome Powell stated that "50 basis points will be on the table for the May meeting", while James Bullard refused to rule out a 0.75% hike at the June meeting of the Federal Open Market Committee.
The eurozone, meanwhile, remains behind other central banks in terms of raising interest rates, but is hastening the wind-down of quantitative easing; this may now end as early as July, paving the way for interest-rate hikes. Markets now predict that the deposit rate (currently -0.5%) will start to rise in July and lift out of negative territory by Q3 this year.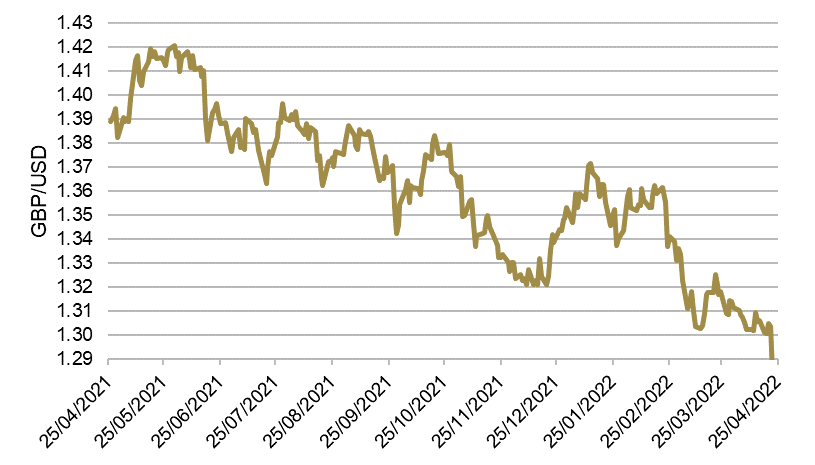 There is little data of note from the UK this week; market focus will remain on next week's Monetary Policy Committee meeting when a fourth consecutive hike is expected. The 0.25% hike priced in by markets will take the base rate to 1.00%, its highest level since February 2009.
Inflation is the story carrying rates higher. Friday sees the release of preliminary Consumer Price Index (CPI) data for the eurozone, followed by the personal consumption expenditure (PCE) measure of inflation in the US.
Eurozone CPI hit an all-time high of 7.4% in March and is expected to remain at that elevated level in April. The preliminary reading of Gross Domestic Product is also out on Friday and markets expect first-quarter growth to come in at 0.3% (quarter-on-quarter).
In the US, the headline year-on-year PCE deflator (the Fed's preferred measure of inflation) is expected to tick up further to 6.7% in April from 6.4% in March, although the core component, which excludes food and energy, may drop slightly. The advance reading of first-quarter annualised GDP, released on Thursday, is expected to fall back to 1.0%, but this is unlikely to stop the Fed hiking rates by 0.50% when it meets next Wednesday.
Currencies
| Pair | Last | 12-month high | 12-month low |
| --- | --- | --- | --- |
| GBP/EUR | 1.1883 | 1.2191 | 1.1469 |
| GBP/USD | 1.2735 | 1.4248 | 1.2729 |
| GBP/CHF | 1.2202 | 1.2857 | 1.2096 |
| EUR/USD | 1.0717 | 1.2266 | 1.0707 |
| GBP/AUD | 1.7792 | 1.9222 | 1.7175 |
| GBP/ZAR | 19.9939 | 21.7684 | 18.7678 |
| GBP/CAD | 1.6232 | 1.7627 | 1.6232 |
| GBP/SEK | 12.2767 | 13.2423 | 11.5275 |
| GBP/NOK | 11.5385 | 12.4205 | 11.2461 |
| GBP/INR | 97.6558 | 104.1453 | 97.6481 |

Economic data
| Date | Release | Last | Exp |
| --- | --- | --- | --- |
| 26/04/22 | US Durable Goods Orders (Mar) | -2.1% | 1.0% |
| 26/04/22 | US New Home Sales (Mar) | -2.0% | 0.3% |
| 28/04/22 | GE CPI (Apr) | 7.3% | 7.2% |
| 28/04/22 | US GDP Annualised (Q1) | 6.9% | 1.0% |
| 29/04/22 | EZ GDP (Q1) | 0.3% | 0.3% |
| 29/04/22 | US PCE Deflator YY (Mar) | 6.4% | 6.7% |