US employment data released on Friday painted a picture of more people heading back to work, with nearly 600,000 joining the workforce in November. The unemployment rate fell to 4.2% (from 4.6% in October), but the economy added only 210,000 jobs, disappointing market expectations of 550,000.
While the headline number of 'non-farm' payrolls was discouraging, Federal Reserve chair Jerome Powell had already laid the groundwork for accelerated tapering of asset purchases to end quantitative easing sooner than June 2020 (the date projected if tapering were to proceed at the current rate). Since Mr Powell has previously stated that rate hikes will not come before asset purchases have ended, this opens the door to hikes earlier in 2022.
Inflation in the US is riding high at 6.2% and is expected to push even higher when data is released on Friday. This places the Fed in an awkward position as to how best to approach monetary policy, given the emergence of the Omicron COVID-19 variant.
Policymakers on both sides of the Atlantic have begun to sound warnings about hiking rates in the face of uncertainties posed by the threat of further restrictions and their impact on the economy. Mr Powell said the new variant could "pose downside risks to employment and economic activity, and increased uncertainty for inflation". In the UK, Michael Saunders, one of only two members of the Monetary Policy Committee (MPC) to vote for a rate hike in November, said "there could be particular advantages in waiting to see more evidence on its possible effects on public health outcomes and hence on the economy".
Policymakers are left with a tricky trade-off: should they continue to support a potentially vulnerable economy or tackle inflation? Moreover, price pressures may grow as a result of disruptions to the supply chain, complicating the trade-off further.
On Tuesday, sterling fell to 1.3194 against the US dollar (a low last seen in December 2020) and settled at 1.3231, down 0.82% on the week. The pound was similarly softer against the euro, down 0.78% to close the week at 1.1694.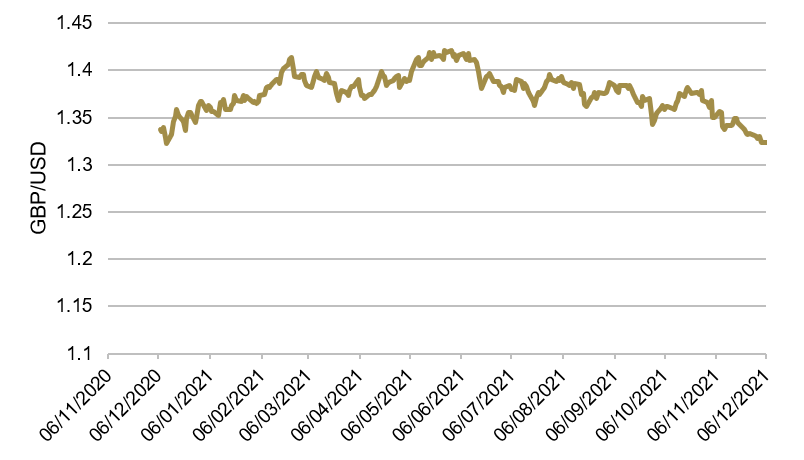 While a report by the South African Medical Council suggests Omicron may cause less severe illness than previous COVID-19 variants, markets remain jittery as they wait for details. Perceived 'risk-on' currencies such as the Australian and New Zealand dollars gained against the US dollar, with the AUD rising 0.3% from Friday's 13-month low to hit 0.7023 as trading began today.
Focus for the week ahead will be on Friday's US Consumer Price Index report. The headline year-on-year measure of inflation is expected to hit 6.7%, its highest level since 1982: core inflation, excluding food and energy, is expected to rise from 4.6% to 4.9%.
In the UK, markets will be attentive to today's speech by the Bank of England's deputy governor, Ben Broadbent, on "the outlook for growth and monetary policy" (he will speak after we have gone to press). The MPC meets next Thursday, and markets are today pricing a 37% chance of a 0.15% hike to 0.25%.

The final data point of note for the UK will be Friday's Gross Domestic Product figures for October. The growth rate is expected to show a 1.1% increase – a strong start to the final quarter.
Currencies
| Pair | Last | 12-month high | 12-month low |
| --- | --- | --- | --- |
| GBP/EUR | 1.1729 | 1.1932 | 1.0834 |
| GBP/USD | 1.3238 | 1.4248 | 1.3135 |
| GBP/CHF | 1.2192 | 1.3074 | 1.1683 |
| EUR/USD | 1.1286 | 1.2349 | 1.1186 |
| GBP/AUD | 1.8863 | 1.9154 | 1.7417 |
| GBP/ZAR | 21.2023 | 21.7684 | 18.9546 |
| GBP/CAD | 1.6977 | 1.7887 | 1.6724 |
| GBP/SEK | 12.0956 | 12.2442 | 10.9484 |
| GBP/NOK | 12.129 | 12.4205 | 11.383 |
| GBP/INR | 99.781 | 105.3777 | 97.1755 |
Economic data
| Date | Release | Last | Exp |
| --- | --- | --- | --- |
| 07/12/21 | AU RBA Cash Rate Target | 0.10% | 0.10% |
| 07/12/21 | EZ GDP QQ (Q3) | 3.7% | 3.7% |
| 08/12/21 | CA Bank of Canada Rate Decision | 0.25% | 0.25% |
| 10/12/21 | UK GDP 3M/3M (Oct) | 1.3% | 1.1% |
| 10/12/21 | UK Manufacturing Production (Oct) | 2.8% | 1.7% |
| 10/12/21 | UK Industrial Production (Oct) | 2.9% | 2.3% |
| 10/12/21 | US CPI YY (Nov) | 6.2% | 6.7% |
| 10/12/21 | US Core CPI (Nov) | 4.6% | 4.9% |