COVID-19 Spooks Markets Once Again
The appearance of the COVID-19 Omicron variant sent equity markets into a tailspin and saw risk-sensitive currencies such the Australian dollar tumble, while the 'safe-haven' Japanese yen surged by a full 2% on Friday.
Ordinarily, the US dollar – another 'safe-haven' currency – would benefit from such uncertainty. However, Federal Reserve policy makers were already starting to suggest the need for accelerated tapering of asset purchases in light of rising inflation. This clouded the outlook for the dollar, as markets considered the implications of a new variant of coronavirus and its effect on public behaviour.
UK health secretary Sajid Javid said that "early indications show this variant may be more transmittable than the Delta variant, and current vaccines may be less effective against it". Japan and Israel closed their borders to foreigners and a number of other countries, including the UK, banned flights from several southern African states following the discovery of the Omicron variant in South Africa.
Before the announcement of new measures, economic data released last week had been pointing in the right direction. Purchasing managers' index (PMI) data mainly beat expectations: in the UK, manufacturing PMI came in at 58.2 (expected 57.3), while the services component came in at 58.6, falling from a three-month high of 59.1 in October but exceeding forecasts of a fall to 58.5.
In the US, the Personal Consumption Expenditure (PCE) Deflator year-on-year measure of inflation hit 5%. As this is the Fed's preferred measure of inflation, there is speculation that Jerome Powell, who was reappointed as Fed chair last week, may bring forward his guidance on rate hikes.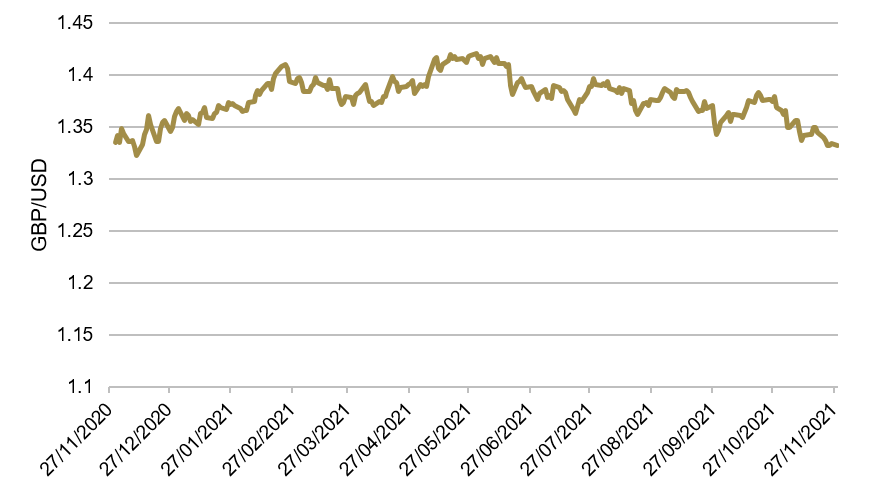 The week ahead marks the Fed's last chance to indicate to markets whether or not it will look to accelerate the 'tapering' of bond purchases at its December 15th meeting. A number of US policymakers will be speaking this week: Mr Powell and US Secretary of the Treasury Janet Yellen will testify to Congress on Tuesday and Wednesday.
Inflation has traditionally been viewed as the bellwether of tighter policy, but employment has recently risen to be the defining data point. Friday's non-farm payrolls number is expected to show that 525,000 new jobs were created in November and that the unemployment rate dropped to a new pandemic-era low of 4.5%.
UK data is thin on the ground. Since Bank of England governor Andrew Bailey recently downplayed the use of forward guidance on monetary policy, markets are not expecting him to give much away when he speaks at an insurance-regulation event this week.
Headlines, it seems, will be reserved for news on the Omicron variant and its potential to trigger the reintroduction of restrictions around the globe.
Currencies
| Pair | Last | 12-month high | 12-month low |
| --- | --- | --- | --- |
| GBP/EUR | 1.1830 | 1.1932 | 1.0834 |
| GBP/USD | 1.3325 | 1.4248 | 1.3135 |
| GBP/CHF | 1.2350 | 1.3074 | 1.1683 |
| EUR/USD | 1.1264 | 1.2349 | 1.1186 |
| GBP/AUD | 1.8648 | 1.9154 | 1.7417 |
| GBP/ZAR | 21.5182 | 21.7684 | 18.9546 |
| GBP/CAD | 1.6977 | 1.7887 | 1.6724 |
| GBP/SEK | 12.1551 | 12.2442 | 10.9484 |
| GBP/NOK | 12.0689 | 12.4205 | 11.383 |
| GBP/INR | 100.092 | 105.3777 | 97.1755 |
Economic data
| Date | Release | Last | Exp |
| --- | --- | --- | --- |
| 30/11/21 | EZ CPI Preliminary (Nov) | 4.1% | 4.4% |
| 01/12/21 | US ADP Employment Change (Nov) | 571k | 515k |
| 03/12/21 | US Non-farm Payrolls (Nov) | 531k | 525k |
| 03/12/21 | US Unemployment Rate (Nov) | 4.6% | 4.5% |
| 03/12/21 | US Factory Orders (Oct) | 0.2% | 0.5% |